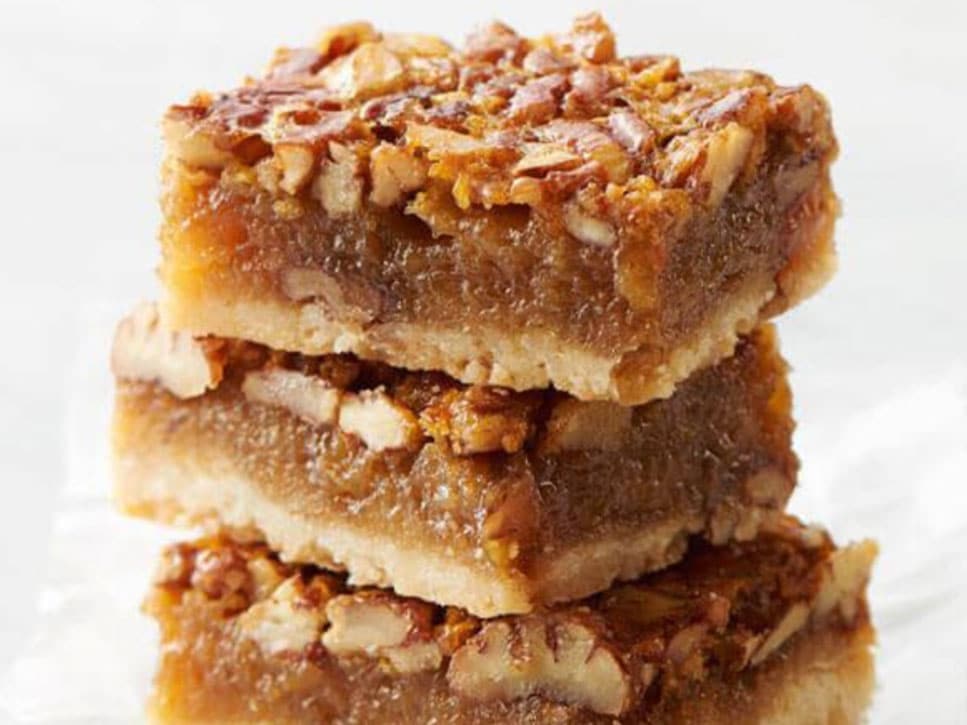 Ingredients
Crust
2 1/2 cups all-purpose flour

2/3 cup powdered sugar

3/4 cup chopped toasted Sweet Grown Alabama pecans

1/2 teaspoon kosher salt

1 cup butter, cubed

vegetable cooking spray
Filling
3/4 cup cane syrup

1/2 cup firmly packed dark brown sugar

6 tablespoons heavy cream

6 tablespoons butter

1/4 teaspoon kosher salt

1 teaspoon vanilla extract

3 cups coarsely chopped toasted Sweet Grown Alabama pecans
Crust Directions:
Preheat oven to 350 degrees.

Pulse flour and next three ingredients in a food processor 8-10 times or until thoroughly combined pecans are finely chopped.

Add butter.

Pulse 8 or 9 times or until mixture resembles coarse meal.

Line bottom and sides of 13×9 inch pan with aluminum foil; allowing 2 to 3 inches to extend over sides.

Lightly grease foil with cooking spray.

Press mixture onto bottom of prepared pan.

Bake at 350 degrees F for 20-25 minutes or until lightly browned.
Filling Directions:
Bring syrup and next 4 ingredients to a boil in a large saucepan over medium heat; stirring constantly until butter melts and mixture is smooth; boil stirring constantly for 1 minute.

Remove from heat.

Stir in vanilla and pecans.

Pour hot filling over cooled crust.

Bake at 350 degrees F for 14-16 minutes or until fillilng bubbles in center.

Cool bars completely in pan and chill for 1 hour before cutting.